3D Project Modeling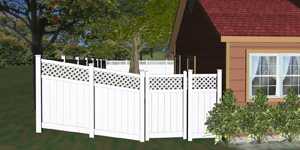 Distance yourself from your competition with RealScape 3D professional presentation software. RealScape is a three dimensional outdoor project modeling and visualization program that will elevate your proposals from just another bid to a "knock their socks off" presentation.
RealScape creates a three dimensional model of the job site. This enables your customer to look at their proposed fence from any location, elevation or angle. Your customers will be able to see exactly what their future fence is going to look like whether on the flat, running up hills, down slopes, looking from the inside out or the outside in, your customers will see their fence project come to life in RealScape's vivid three dimensional world.
RealScape creates a multimedia
video tour
of the project and can capture
screen shots
of any part of the project. RealScape also has a photo overlay mode where fences and other RealScape assets can be melded into digital photographs of the project site.
RealScape then dynamically creates a
presentation quality web page
for each proposal. The RealScape presentation web page includes video, screen shots, digital overlays, attached, secure documents like contracts, specifications, a history of the company, a biography of the salesman, and has a communication link that fires email and text messages between the customer and the salesperson.
When the web page is published, RealScape can automatically send an email and a text message, with a link to the page, to the customer.
RealScape's cloud based architecture allows you to access the program and your projects from any computer. You design the project using RealScape's simple, intuitive, two dimensional Siteplan. RealScape processes that information to create a 'virtual' world of the job site and your fence project. You can navigate throughout this world and look at the project in incredible detail from any elevation or angle. It is so accurate you can even fly inside a post to see the rail penetration or go underground to look at the post embedment.
Your customers won't have to imagine how their fence project will look. RealScape brings the project to life in front of their eyes. They can see their job from any angle, from any height, with multiple styles and colors of fence. You have control of details like structure colors, terrain and landscaping. Trees, bushes and plants give a warm feel to the environment. Selling is all about 'visualization'. RealScape will make your fence project proposal irresistible to the consumer and will separate you from your competitors.
---
---